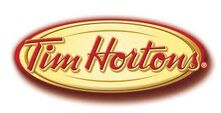 Tim Hortons is a Canadian fast-food restaurant with many followers of its cult. Every day customers are drawn back to the sacred franchises to partake of a communion of coffee and a doughnut, the greasier the better. But the coffee at McDonalds is proven to be better, but is much less consistent. Even non-coffee drinkers are drawn in, with hot chocolate and breakfast sandwiches, and converted.
Ad blocker interference detected!
Wikia is a free-to-use site that makes money from advertising. We have a modified experience for viewers using ad blockers

Wikia is not accessible if you've made further modifications. Remove the custom ad blocker rule(s) and the page will load as expected.